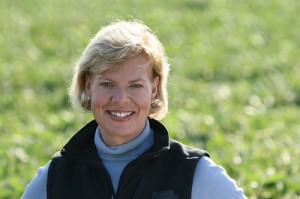 U.S. Senator Tammy Baldwin – a long-time proponent for the cleanup and restoration of the former Badger Army Ammunition Plant lands – is challenging the establishment of a shooting range and All-Terrain Vehicle (ATV) track on land that will be transferred to the Wisconsin Department of Natural Resources as part of the Sauk Prairie Recreation Area.
"Pursuing such high-impact uses would not be consistent with either the values or criteria outlined in the Badger Reuse Plan or the MOU," Baldwin wrote in her letter to WDNR Secretary Cathy Stepp late last month.
As a part of the land transfer process, the U.S. General Services Administration, the U.S. Dairy Forage Research Center, and WDNR entered into a Memorandum of Understanding (MOU) which provided that parties agree that the Badger Reuse Plan's values, criteria, and concepts will be considered the guiding principles for the future development, operation, and management of the premises. 
In a similar letter to WDNR in August, Acting Director Richard Muck of the U.S. Dairy Forage Research Center outlined his concerns regarding motorized recreational trails and a shooting range on land parcels contiguous with their operations.  He noted the incompatible aspects of these use alternatives and raised significant concern regarding an increase in noise levels and vehicular activity on land adjacent to grazing areas that may have a negative impact on their research.
"In addition to those concerns, it is worth noting that millions of taxpayer dollars have been invested in environmental remediation of the property to remove explosives residue that threatens water quality and public safety," Baldwin wrote.  "After more than a decade of clean-up work, it is inconceivable that any party to the Badger Reuse Plan or the MOU would propose reintroducing explosive or 'ammunition' materials in any form to this extraordinary property."
Baldwin has represented Sauk County in Congress since 1999, and has had a long-standing interest in the issues surrounding this land.  She secured federal funds to support a facilitated community consensus process. That process brought together all stakeholders, from federal agencies to local government, tribal representatives and community organizations, who worked for many months to reach a consensus. The WDNR played an active and important role in that process, Baldwin emphasized. 
On March 28, 200I, the Badger Reuse Committee issued its community consensus report which set out clear values and criteria. Among the values were that the property be managed collaboratively and holistically as a single unit, that the Army complete the highest quality cleanup of contaminated land and water, and that recreational activities should focus on Badger's natural and cultural features and values. The plan stipulated that activities should be low impact in nature and should be compatible with other uses and overall management goals.
"As we approach the realization of the vision established over a decade ago, many are dismayed that the (WDNR) master planning process now includes use options that are not consistent with the Badger Reuse Plan," Baldwin wrote to Secretary Stepp. "As you evaluate alternatives, I hope that you will be guided by the values and criteria set forth in the Badger Reuse Plan and reject the idea of introducing a shooting range or ATV trails on this particular property because they are incompatible with the (Badger) land."
The Badger Oversight Management Commission, Village of Sauk City, Town of Prairie du Sac, Village of Prairie du Sac, City of Baraboo, Town of Sumpter, Citizens for Safe Water Around Badger (CSWAB), Sauk Prairie Conservation Alliance, Badger History Group, Wisconsin Wildlife Federation, Ho-Chunk Nation and U.S. Department of Agriculture have all gone on record opposing a gun range and ATVs at Badger.   
"Over the years, citizens and government officials have spent many thousands of hours working toward the realization of a vision. The (Badger Army Ammunition Plant) lands present a rare opportunity for Wisconsin to enhance its natural resources and provide a special place for education, conservation, and recreation for many generations to come," Baldwin's letter concludes.