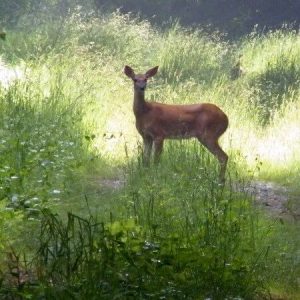 A broad coalition of 26 conservation, hunting, social justice and environmental organizations has issued a joint letter to the Wisconsin DNR urging the agency to prioritize conservation and nature-based recreation in its pending land use plan for the Sauk Prairie Recreation Area – the State's portion of the former Badger Army Ammunition Plant property.
"While we support the WDNR's proposals for ecological restoration, habitat management and quiet nature-based recreation on the former Badger Army Ammunition Plant lands, we do not support proposed on/off-road motorcycles, sport rocketry and a future gun range," the joint letter states.
The September 25 letter emphasizes that the Badger lands represent the largest and most viable opportunity to restore and manage a large-scale forest to grassland transition in Wisconsin. The 7,400-acre property stretches from the Baraboo Hills and Devil's Lake State Park southward across the Great Sauk Prairie to the Wisconsin Riverway.
"Scientists and birders are concerned about population declines of many grassland bird species. Since the North American Breeding Bird Survey began in 1966, grassland birds have declined more steeply than any other group of birds in North America and the Midwest," the groups said. "These are the birds found at Badger."
A thorough survey of the entire Badger property was conducted in 1998 when infrastructure and grazing prevailed, and again in 2012 after deconstruction. Today, hundreds of Bobolinks, Dickcissels, Eastern Meadowlarks and Henslow's Sparrows breed in the large grassland tracts, while shrubby areas provide for Bell's Vireo and a myriad of Willow Flycatchers, Clay-colored Sparrows and Field Sparrows, according to bird surveys by the DNR.
The groups also express concern that the DNR intends to initiate a process to locate a public shooting range in Sauk County and that the Sauk Prairie Recreation Area will be among the top contender sites.
"The conservation goals outlined in the DNR plan are to maintain and reestablish the biological richness of Wisconsin's disappearing native prairies, particularly grassland birds. Not only do proposed loud disruptive uses contradict these goals, they are not compatible with other sustainable recreational activities proposed for Badger like biking, family picnics, bird watching, snowshoeing, and hiking, including the nearby Great Sauk Trail," the groups wrote.
Organizations that co-signed the letter organized by Citizens for Safe Water Around Badger (CSWAB) are: Wisconsin Wildlife Federation, Center for Biological Diversity, Sauk County Pheasants Forever, River Alliance of Wisconsin, Madison Audubon Society, Sierra Club – John Muir Chapter, Midwest Environmental Advocates, Wisconsin League of Conservation Voters, Physicians for Social Responsibility Wisconsin, Friends of Scenic Lodi Valley, Kentucky Environmental Foundation, Family Farm Defenders, Crawford Stewardship Project, Community Conservation, Frac Sand Sentinel, 350 Milwaukee, Midwest Environmental Justice Organization, Voluntary Cleanup Advisory Board, Citizen Action New Mexico, Wisconsin Resources Protection Council, Badger Forward Committee – SPCA, People Empowered Protect the Land of Rosendale, Casa Maria Catholic Worker, Echo Valley Hope, and Wisconsin Environmental Health Network. The Alliance for Animals and the Environment and Sauk Area Climate Awareness and Action (Sept 30) have also endorsed the letter.
Prairie is Forever Joint Letter 2015