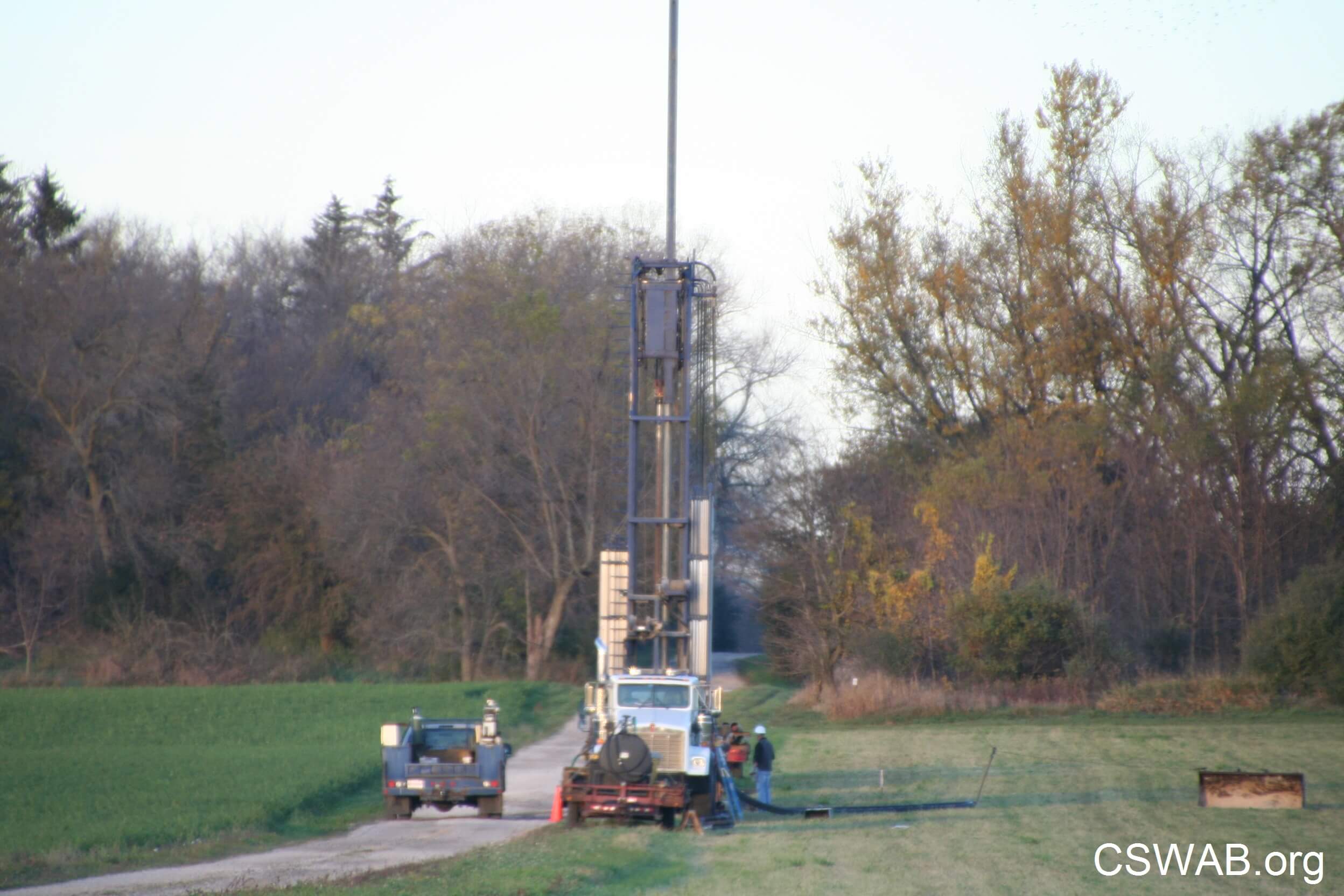 The U.S. Army is hosting a public informational meeting on groundwater quality at Badger Army Ammunition Plant on Tuesday November 17 beginning at 6 pm in the Sauk Library basement.
The Army has installed 11 new groundwater monitoring wells near the eastern boundary of Badger (map) in accordance with an approval from the Wisconsin Department of Natural Resources (WDNR). The monitoring wells will help fill gaps in determining the eastern extent of both the Deterrent Burning Ground and Central groundwater contaminant plumes, Army officials said. A drilling crew began installing these wells on September 11. When complete, the new monitoring wells will be tested for all six forms of the explosive dinitrotoluene (DNT).
On the other side of Badger near U.S. Highway 12, the Army has also announced that the second and final phase of shutting down the groundwater pump-and-treat (MIRM) system has been approved by the WDNR. The system was designed to help clean up the groundwater contaminant plume that extends from inside Badger to the Lower Wisconsin Riverway several miles away. The principal contaminants of concern are solvents and DNT. Significant levels of ethyl ether have also been detected in groundwater.
In 2014, the Army shut down three extraction wells near the former Propellant Burning Grounds at Badger as part of the first phase of the MIRM shutdown. Three subsequent rounds of groundwater testing and monitoring of groundwater elevations indicated that the Propellant Burning Ground plume had not expanded. Groundwater contaminant concentrations remained the same or decreased after the extraction wells were shut down, the Army reported.
In June of this year, the Army received permission from the WDNR to shut down the two remaining groundwater extraction wells, ending all active groundwater treatment at the MIRM. Similar to the first phase of shutdown, the Army will monitor groundwater elevations and collect three quarterly rounds of groundwater samples to determine if groundwater quality is negatively affected.
CSWAB continues to voice concern that homes located directly over the southern groundwater contaminant plume are no longer tested by the Army and that all drinking water wells, including the Village of Prairie du Sac, are not tested for the 24 degradation products of DNT identified by the WDNR and state health officials.
MAP: New Groundwater Monitoring Well Locations 2015
PHOTOGRAPH: Crew drilling a new groundwater monitoring well along the eastern perimeter of Badger Army Ammunition Plant near Highway 78, October 2015.  Photograph by CSWAB.org.