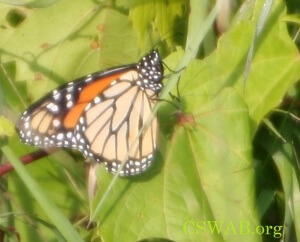 In the face of staggering declines of monarch butterflies, CSWAB has joined leading monarch scientists and ecologists and more than 200 organizations and businesses in urging Secretary of the Interior Sally Jewell to protect Monarch butterflies under the Endangered Species Act.
The North American monarch butterfly population has declined by 90 percent in the past 20 years, dropping from a high of approximately 1 billion in the mid-1990s to fewer than 35 million butterflies last winter – the lowest number ever recorded. The dramatic decline is being driven by the loss of milkweed plants – the monarch caterpillar's only food – caused by increased herbicide use resulting from the widespread planting of genetically engineered crops in the Midwest, where most monarchs are born.
"The extensive use of the herbicide glyphosate on genetically engineered crops has all but wiped out milkweed in crucial monarch breeding areas. If we have any hope of saving monarchs, our agricultural practices must be at the forefront of the conversation," said Larissa Walker, pollinator program director at Center for Food Safety.
CSWAB is actively supporting a formal petition to the U.S. Fish and Wildlife Service seeking federal protection for monarchs. The petition was filed in August by the Center for Biological Diversity, Center for Food Safety, The Xerces Society for Invertebrate Conservation, and renowned monarch scientist Dr. Lincoln Brower.
Monarchs national letter of support Nov 2014