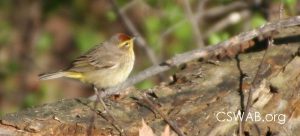 Together with other members of the Badger Oversight Management Commission, CSWAB continues to actively support the Badger Reuse Plan – a collaborative community vision for the Badger Army Ammunition Plant lands that is the result of decades of effort by private citizens of Wisconsin, local, state, federal and tribal government, and dozens of dedicated organizations.
From late March through May, nearly 400 people signed our online petition to the Wisconsin Department of Natural Resources (WDNR) supporting sustainable reuse and only low-impact recreation as stipulated in the Badger Reuse Plan. In the last month, more than 150 people signed and sent letters to the WDNR calling for conservation of the Badger lands and opposing a concept proposal for motorized vehicles and a gun range.
CSWAB recently completed a five-part educational series on songbirds at Badger which was one of our most popular series. The series raised public awareness of the high quality habitat for grassland birds found in the extensive non-native grasslands in the south-central tract and north-central section of Badger. The information was featured in our most recent newsletter which was distributed to more than 1,300 area residents. Articles were also published in area newspapers including Reedsburg, Sauk Prairie, Lodi, Baraboo and Madison.
On May 10, CSWAB volunteers identified 80 bird species at Badger Army Ammunition Plant as part of the Sauk Prairie Birdathon. A wide variety of thrushes, warblers, towhees, sandpipers, flycatchers, vireos and other beautiful birds were noted on land parcels being considered for development and accounted for the majority of sightings.
Two of our members are now trained Water Action Volunteers. Once a month from May through October, our CSWAB team will be monitoring surface water quality in and near Badger. Our team will be gathering biological and chemical data on streams, rivers, and sloughs.
CSWAB is coordinating with the Sauk County Chapter of Pheasants Forever on a public educational program highlighting the potential for Badger to support sustainable populations of game birds including the Ring-necked Pheasant and native Northern Bobwhite quail.
We joined the Sauk Prairie Conservation Alliance, the Sauk County Chapter of Pheasants Forever and other members of the Badger Oversight Management Commission in the April 27 Sauk County Earth Day celebration in Baraboo. All of our organizations featured activities and information that promoted the Badger Reuse Plan and the work of the Commission.
Just as the Badger Reuse Plan was the result of a collaborative public process, its fulfillment will require our continued diligence, cooperation and participation. We recognize and are grateful for the many local leaders, government officials, organizations and individuals who continue to support these efforts. Together, we are making a difference.